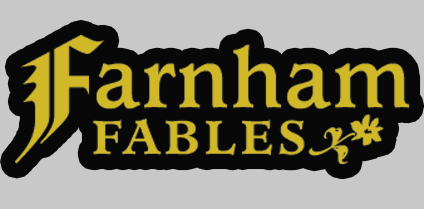 Farnham Fables: Episode 3: Animals at School
Episode 3: Animals at School
---
"Theresa Doyle is pretty excited about going to school today, because Prince Philip Farnham will be coming to the Brown Forest Elementary School to give a presentation about some rare and fascinating animals. Unfortunately, a brief lapse in supervision has allowed them to get loose in the school. Hopefully Philip can round them all up and still have time to give his presentation!"
---

Do you like, or at least, are able to tolerate:
Point-and-click adventure games?
Simple yet honest 216-color graphics?
An 800x600 windowed resolution?

The ability to go full screen with either stretched or un-stretched pixels?
A single EXE file that's less than 6 MB?
Lots and lots and lots of reading?
A unique response for every single possible interaction?
Fantasy creatures?
Tasteful nudity?
Lizard girls?


Farnham Fables is a series of short point-and-click adventure games, presented like a TV series, where every single possible interaction will give you a unique response.
UPDATE: April 18th, 2019
Eric Luck's name has been removed from the credits since he no longer wishes to be associated with anything related to me, on top of his unethical behavior.
I will NOT be removing any of his past contributions, nor will I stop using any of the characters that he created, including ones that have not yet appeared in the series, because:
1. The work was compensated and paid for by the revenue made through the game's sales, removing his copyright claim on any work made specifically for the game.
2. I contributed greatly to the development of his characters.
3. I do not believe in punishing children for the sins of their father.


Quick Update: September 10th, 2018: Fixed some very minor typos.

Quick Update: August 26th, 2018: Fixed some very minor typos.

UPDATE: August 14th, 2018
Some very important code clean-up and typo/interaction fixes.
Quick update: Necessary tweak to the keyboard commands.

UPDATE: March 30th, 2018
It's the update nobody asked for but a number of people must surely have wanted!
Every Episode can now be played with just the keyboard!
Arrow Keys = Move mouse cursor Hold Shift = Move mouse cursor faster Z = Left Click X = Middle Click C = Right Click On top of that, the number keys 1 - 9 can be used to select the Verbs.
Even better, I FINALLY fixed that awful flickering that happens in fullscreen mode whenever moving to another frame. I'm, also pretty sure I fixed that glitch where, if you click really really fast, you can somehow skip, uh, stuff. Sorry to anyone who loves harmless bugs in their games and know just what the heck I'm talking about.


UPDATE: December 19th, 2017
Fixed a game-breaking bug where it wouldn't end if you have your Profile loaded.
Also fixed some interactions that were missing,
and updated the Heart/Pineapple poster to the proper latest version.

Purchase
In order to download this game you must purchase it at or above the minimum price of $1 USD. You will get access to the following files:
Farnham Fables Episode 3.exe
5 MB
Farnham Fables Episode 3.zip
4 MB